When to use the Pulsor....
Applications that can be solved by the Pulsor stress sensor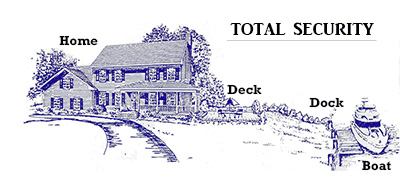 Residential and Commercial Security
Area coverage throughout home / office building to protect the building.
Decks - Used as a safety feature to announce guests. This feature has been used to notify parents if their child steps outside the house, particularly useful if there is a safety issue such as a pool in the backyard. IMPORTANT NOTE: System has to be turned on to work.
Roofs - Sensors placed on the roof of an office building to protect from intruders gaining roof access.
Window sills - Pulsors can be placed under window sills. Allows homeowners to keep windows open while still keeping intruders out.
Fire escapes - Prevents unwanted people from climbing on the fire escape.
Video cameras - Sensors used to turn cameras on and off. Sensors also used to control the rotation of a camera.

Home Automation
Lighting on stairs
Bathroom fans
Shower stalls
Bedroom triggers to turn on bathroom lights

Marine Industry
MarineGuard Boat Alarms - secure boats of all sizes made from broad variety of materials
Megayachts - Pulsors used for security and camera control
Docks - Pulsors used for security and lights at residential and commercial docks, including floating docks.