MarineGuard Bilge Sensor
High Water Alert

A high water alert system is a cost-effective way to keep your boat from sinking. If your boat sinks, not only is it an expensive incident, it may not be covered by your insurance company. A high water alert system allows you to adress the emergency before it becomes a reality.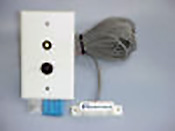 Bilge Sensor and Sounder
Part No. MGBSS
MarineGuard's Bilge Sensor and Sounder ties into MarineGuard's MG01C and MG02C boat alarms. It monitors the water level in your boat's bilge. If the water level rises above an acceptable level, the alert is triggered, and the alarm system sounds.

Package includes (1) bilge sensor, (1) CHIMPLT - switchplate (on/off toggle) with chime mounted to it, and crimps.

The MGBSS can be tied to MarineGuard's tracking and monitoring services so you can be alerted if the high water alert is triggered. The alarm signal can be sent to your cell phone, iPad, or computer. Central station monitoring is also available.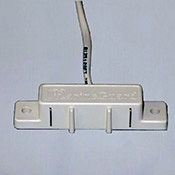 Bilge Sensor
Part No. MGBS
Additional Bilge Sensors can be added to the MGBSS as needed.

Most small boats need just one bilge sensor. Larger boats may need two. Simple rule of thumb: Use one bilge sensor for each compartment that can take on water.